Hi-Tech Computer Repair's
Online Backup Solution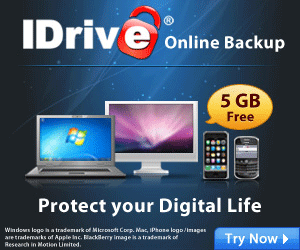 Hi-Tech Computer Repair is a proud parter with IDrive, one of the top rated online backup solutions.
What is IDrive exactly?
IDrive is an easy to use, secure Online Backup application. You've got lots of files and we've got lots of storage - it's like a match made in heaven!

Why should you back up?
You have valuable material on your computer. Not only all your business files, you also have pictures and videos, email addresses and phone numbers, bank account information, and other sentimental things. And they all live on your hard drive.
It's convenient, but it also exposes a lot of important things to loss in the same accident. This is why you should back up your hard drive.
How can I lose my data?
This is the age of computers and, due to how common they are, many of us start to think that they are infallible. The truth is, computers can, and often do, fail. When that happens, the person owning the computer is often left up a creek without the proverbial paddle.
How often do I need to backup my data?
The answer should be at least weekly, preferably daily. How much time would it take you to recreate from hard copy or memory a week's worth of work?
Why doesn't everyone back-up their data?
The main reason why many people do not back-up their data is either they think "It will never happen to me." Or they are not aware of how to correctly back-up their files and to do a disaster test recovery to see if they are doing it correctly.
Why should I think about using an Online backup system instead of a more conventional external hard drive?

Well, because traditional backup methods are not always reliable. Here's what analyst groups like Gartner and IDC have to say about data loss:
60% of corporate data resides on PC desktops and laptops
32% of data loss is due to user error
10% of laptops are stolen annually
5% of laptops suffer hardware failure annually
70% of all tape restores fail

Wouldn't you be better off backing up your data online, fully protected, encrypted and accessible from ANYWHERE?